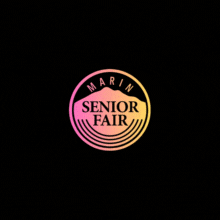 We're Back, Baby! Celebrate Getting Back Together!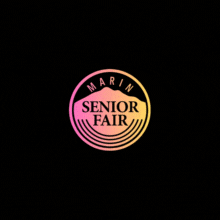 FREE ADMISSION | FREE TRANSPORTATION | FREE PARKING
FOOD | ENTERTAINMENT | LIVE MUSIC | DANCING | PRIZES
Welcome exhibitors, to the 35th Annual Marin Senior Fair!
Below is useful and important information about exhibiting at the fair. Please review this information carefully. There are a few rules that we expect you to know. We hope that you have a fun and productive day at the fair.
If this page does not answer all your questions, please Contact Us.
To reach us at the fair, go to the Fair Information booth #160.
Your Booth Location
To look up your booth location, see Our Exhibitors and Search for your organization name. To see your booth location, see the Exhibits Floor Plan.
Booth Sizes
Booths are either a Draped Booth or a Tabletop Booth. Booths 101-196 and booths 205-210 are draped booths. Booths 197-204 (along the back wall of the main exhibit) hall are not draped, but include an 8 foot table. All others are tabletops include a 6 foot table.
Draped booths are a 10' wide by 8' deep draped booth that contains an 8 foot table and 2 chairs. Draped booths are 8' high in the back and 3' high on the sides. Double draped booths are two booths together, minus the center drape. Corner booths may opt to remove one side wall so the booth is open on two sides. You are free to arrange your tables and chairs within your draped booth however you like. Booth draping is burgundy and silver in color.
Tabletop booths are a 6 foot table and two chairs. Tabletop booths do not have any drapes or backdrop. Double tabletop booths are two six foot tables together and four chairs.
What do I get in my booth?
Each booth comes with one table and two chairs. Tables in the main exhibit hall are 8'x30"; tables in the Manzanita room and Lobby are 6'x30". Tablecloths or skirts are not provided, you must being your own.
The Main Exhibit Hall is not carpeted. We recommend that you bring a small carpet to make your booth quieter and more comfortable.
All booths have access to power and Internet.
Please do not remove furniture from your booth or take furniture from another booth. If you require a furniture change, please go to the Fair Information booth #160.
Booth Setup, Occupancy, and Tear-Down
Booth Setup - Wednesday, September 6, Noon - 5:00 pm
Booth Tear-down - Thursday, September 7, 3:00 - 5:00 pm
All exhibitors must check in at the Fair Information booth #160 prior to setting up. Exhibitors that have not checked in by 4:00 pm on Wednesday, September 6 will forfeit their booth and booth payment.
If you cannot set up the day prior to the fair, you can set up the day of the fair by prior arrangement only. Email Us to discuss. Thursday morning setup is limited to 8:00 am - 9:00 am.
Your booth should be set up and ready to exhibit by 9:00 am on Thursday, September 7. Your booth must remain set up, staffed, and intact at all times between 9:00 am and 3:00 pm. Booth tear-down cannot commence before 3:00 pm on Thursday, September 7. Leaving your booth before 3:00 pm will adversely affect your ability to obtain a booth in subsequent years.
Your booth must be empty and unoccupied by 5:00 pm on September 7.
Booth space must be left clean and free of trash. Exhibitors can use the provided trash cans and dumpster for their trash. The Exhibit Hall requests that you flatten all cardboard boxes. Exhibitors who fail to clean up their booth space will be billed a $50 cleaning fee.
Booth Forfeiture
Any booth that is not occupied or set up by 4:00 pm on Wednesday, September 6 will be forfeited without notice or refund. The Marin Senior Fair has the right to resell or reassign any forfeited booth.
Be sure to Email Us to make special arrangements if you cannot arrive by 4:00 pm. We are sold out and have a wait list. If we don't hear from you by 4:00 pm, your booth will be given to an organization on the wait list.
Directions, Parking, Load-In and Load-Out
The Marin Senior Fair is held at the Marin Center Exhibit Hall at 100 Avenue of the Flags, San Rafael. Your GPS or smartphone will get you to the exhibit hall by entering this address.
On setup day you can park wherever you like. Doors on both sides of the Exhibit Hall will be open on setup day. The paved main parking lot gives the best access for booths in the Manzanita room (booths numbered 300s) and the Lobby (500s). Parking on the lagoon side of the building gives good access to the back of the Main Hall (100s & 200s).
You are permitted to pull your car into the Loading Dock area to unload, however you must move your car immediately upon unloading to allow for the next exhibitor to unload.
On the day of the fair, exhibitors must park on the lagoon side (back side) of the building. Look for Exhibitor Parking and Exhibitor Entrance signs. The paved main parking lot is reserved for attendees. Prior to 9:00 am, these are the only entrance doors that are open; you cannot enter through the Attendee entrance at the front of the building.
Hanging Signs and Decorations
Do not attach anything to the Exhibit Hall walls or doors using tape, tacks, staples, or pins. Additionally, signs and decorations cannot be pinned to the booth draping.
Please use S hooks to hang items from the top pipe in your booth, or clip items to the draping. You can obtain S hooks from the Fair Information booth #160.
For table booths outside of the Main Hall, there are picture hanging tracks on the walls that can be used to hang items. To avoid marring the hanging tracks, use string or fishing line to hang your items, not metal hooks.
You are free to use a freestanding booth decoration or backdrop as long as it fits within your booth. For draped booth, this must not be wider than 9'6"; for tabletop booths no wider than 8'0". The ceiling height in the main hall is 12 feet, everywhere else it is 10 feet.
Standing on the tables is not permitted. If necessary, it is recommended you bring a small step-ladder to assist with hanging your signs and decorations.
Exhibit Hall Crew and Fair Volunteers are available to help with the setup of your booth. See the Fair Information Booth (#160) if you need some help. A limited number of supplies and tools are available at the Fair Information Booth.
Booth Decorating
Exhibitors are encouraged to decorate their booths and wear costumes to support the theme of the Fair. This year's theme is We're Back, Baby! Celebrating Getting Back Together! Think celebrating and getting back together with old friends, family, and colleagues. The fair will be decorated with bright neon colors, spinners, sparklers, twinkling lights, and similar imagery.
Use your imagination to design a creative, colorful and informative booth presentation. Attendees respond to eye-catching exhibits and informative presentations. Make yours memorable.
All booth decorations must be fire resistant.
Booth Awards
Prizes are awarded for the the Best Decorated Booth, Most Informative Booth, and Best Overall Booth. First and second place ribbons will be awarded for each category during lunch on the main stage.
Booth Activities
All booth activities must be relevant to the purpose of the Marin Senior Fair, which means they must be relevant to the interests of seniors.
All booth activities must be done within your designated booth space. No items or displays are allowed outside of your booth. The aisles are often crowded with attendees, so we cannot allow your display to extend into the aisle.
Exhibitors may not display materials or engage in activities that are illegal or deemed (by the Exhibit Manager or Fair Committee) to be inappropriate, indecent, or unacceptable.
Internet and Power
All booths have access to a 110v power outlet. The closest outlet may not be in your booth; we suggest bringing extension cords to ensure that you can reach the nearest power outlet.
Wireless Internet access is available throughout the Exhibit Hall. Ask at the Fair Information booth #160 for the password.
Sales
The selling of goods and services is allowed and must be done within your booth space.
Sound and Music
The noise level in the Main Exhibit Hall is often high due to the large number of booths and the stage entertainment throughout the day. We ask that the playing of music and the use of amplification devices be kept to a level that does not disrupt the exhibitors around you.
Promotional Items and Giveaways
We encourage healthful treats and useful giveaways in your booth. Giveaways attract and encourage attendance at your booth and can leave a lasting impression on your attendees well after the fair.
Great Eats at the Fair
Once again, the Marin Senior Fair is offering several food options! Food and drinks are available at the inside Snack Counter, as well as at the outdoor Food Trucks. Both inside and outside seating is available.