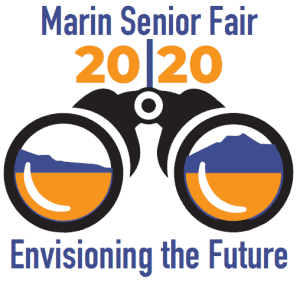 The 2020 Marin Senior Fair has been cancelled.
It is with much regret that we must cancel this year's Marin Senior Fair due to COVID-19 impact. Our highest priority is to the safety of our seniors. At this time we do not feel confident that we can provide the social distancing and other safeguards required to keep 2,000 seniors and 140 exhibitors safe in a congested indoor environment.
The Marin Senior Fair has been the mainstay of senior information for 34 years. We'll take a year off and return next year with all the same fun, entertainment, and information that you've experienced in years past. Mark your calendar now for the 2021 Marin Senior Fair, scheduled for October 27, 2021.
Information about the 2021 Marin Senior Fair will be available here early next year. Exhibitor registration opens June 1, 2021. Past exhibitors, and those on our mailing list, will be notified by email in May 2021. You can join our mailing list by submitting the form at the bottom of this page.
Thanks again to our many attendees, sponsors, exhibitors, and entertainers who have been with us for many years. We'll see you next year! Until then, stay well.
With regards,
The Marin Senior Fair Planning Committee
What Happens at the Senior Fair...
Wednesday, October 23, 2019
9:00 am – 3:00 pm
Marin Center Exhibit Hall
Free Admission! Free Transportation!
2019 Marin Senior Fair a Huge Success!
The 2019 Marin Senior Fair was another busy and festive event. Approximately 2,000 attendees visited 145 exhibit booths, received free flu shots, and attended senior talks. The 2019 theme Viva Marin Seniors! was very prevalent throughout the fair, featuring Vegas-style activities, costumes, booth decorations, and entertainment.
We wish to thank our exhibitors, speakers, and entertainers for providing a fun and interesting day for our attendees. Paul Martin, our Master of Ceremonies, kept the festivities rolling throughout the day with his entertaining announcing. Joan Carole was our beautiful senior showgirl. Thanks goes to our many volunteers, our staff, and the Rotary club, for their help on the day of the event. Last, but not least, the fair would not happen without a year of planning by the Marin Senior Fair Committee.
Food • Entertainment • Dancing • Prizes
"Lots of great information, wonderful entertainment, yummy food and dancing...what more could you ask for! "
Susan, RxSafe Marin
"At the beginning of the new year, one thing that goes on my calendar is the Marin Senior Fair. It's a "do not miss" event to either promote or find new information for senior citizens or their families."
Sandi Smith, President, Novato Senior Citizens Club
"This is a very important fair for our older community to find the resources they need. "
Sherri Jacobs, Valley Memorial Park
"The best event to learn about services and programs for older adults in Marin County! An event that you never want to miss!"
San Rafael Goldenaires & San Rafael Goldenaires Watercolor
"The Fair is a wonderful opportunity for older people and their families to acquaint themselves with all of the services, and opportunities available in the community, for active seniors and those in need of assistance."
Liz Rottger, Community Representative Founder and Member Board of Directors
"I look forward to it every year."
Fair Attendee
"The Senior Fair has never been better. Even though our booth was only one of over a hundred booths, we were made to feel special and important, not only at the Fair but in our community. We belonged."
Luanne Mullin, ESCOM, College of Marin
"Great event to attend! Many seniors in the community come to socialize and get information. Vendors are very informative and enjoy interacting with flow of people walking through the fair."
Home Instead Senior Care
"The annual senior fair is a must for anyone wanting to get a lot of information and resources in one day under one roof."
Rosanne Angel, Aldersly 
"We had such a great time at the fair--talking about fall prevention, taking people's blood pressure and learning a little about their lives! What a wonderful day."
Julie Lim, Meritage Medical Network
"The Fair is great for seniors looking for services in Marin, and it is equally good at providing an opportunity for service providers to get to know one another. A tremendous gift to the County!"
Tam House
"The Marin Senior Fair is one of the best attended events at the Marin Exhibit Hall."
Marin Exhibit Hall Staff
Over 140 Exhibitors
The Fair features valuable information and resources in a variety of categories, including:
Medical, Health, and Wellness • Caregiving • Mental Health and Counseling • Technology
Legal and Financial Services • Vacation and Travel • Housing and Transportation • Education
Fitness, Hobbies, and Activities • Music and Entertainment • Volunteering and Community

Exhibit at the Fair
Exhibit space sells out early.
Booth Reservations open May 1.
Early Booth Rates end July 1.
Join Our List of Sponsors
As a sponsor of the Marin Senior Fair, your company or agency gets exposure to thousands of interested seniors.
Advertise with Us
Reach more seniors by advertising on our website or distributing your literature in the attendee tote bag.
We'd love to hear from you!
Please send us your questions or comments and subscribe to one, or both, of our mailing lists. You can unsubscribe at any time.

Or, give us a call at 833-347-0007.